By
Published: 02:12 BST, 6 September 2014 | Updated: 02:13 BST, 6 September 2014
NEW YORK (AP) — Gwen Stefani, after a three-year childbearing and child-raising break, returned to New York Fashion Week on Friday, rolling out modern tribal looks that had models frolicking on a platform surrounded by a gritty urban video installation from longtime collaborator Sophie Muller.
In bright pink trousers from her L.A.M.B. brand, Stefani told reporters before the show that her three boys are slightly older now and able to deal with her return to the fashion life.
And they didn't cry, she said, when she called home while preparing for her New York presentation, her first since 2011.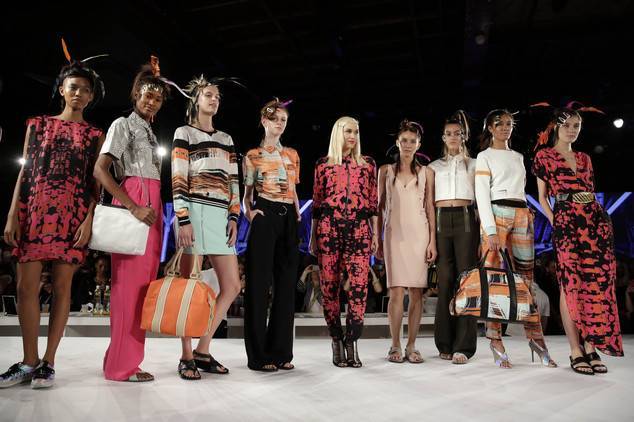 She described the batik prints in bright pink, earthy horizontal lines of color in another print and pops of orange her "New Nomad" collection for spring. A circular design was used in light breezy long dresses in blue and gray.
Stefani also debuted new shoes and bags, including a pair of heels with luminescent strap detailing.
The No Doubt singer described her new dresses and trousers as a mashup of tribal and graphic prints meet the Orange County girl, with a Jamaican vibe thrown in.
Stefani launched L.A.M.B. in 2003 and now heads a global business.