Swoon!Keith Urban Mentioned His 'Baby Girl' Nicole Kidman's Absence at the CMT Awards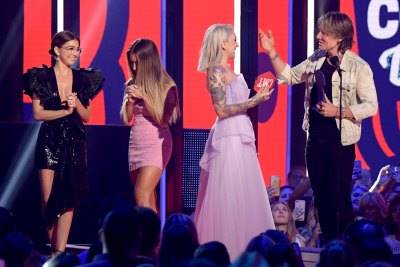 Keith, 51, was there at the Big Little Lies season 2 premiere in NYC with Nicole, also 51, on May 31 — but sadly the roles couldn't be reversed this time 'round. That said, not only is Keith performing at the show but he is also a winner.
During his acceptance speech, Keith started off by thanking the fans for voting before turning his attention to Nicole's absence. He said she is at home tonight because work kept her in the Big Apple. "I wish you were here, baby girl. I miss you," he said sweetly.
Not only is Keith snatching trophies, he has a few people back home who are cheering him on from afar. We're talking, of course, about his and Nicole's two children together — Sunday, 10, and Faith, 8 — who will always have his back.
"I just love being able to be here because he is so supportive of me," Nicole said of Keith at the 2019 ACM Awards back in April. "He has given me so much and so much confidence, and the girls and I love traveling. We all travel together. This is our life and this is what we do, and it's exciting for us. Really exciting."
That's just a taste of the kind of adoration Nicole and Keith have shown each other throughout their dozen years of marriage. In fact, they're about to celebrate their 13-year wedding anniversary as they exchanged I do's on June 25, 2006. Time sure does fly when you're busy dominating the entertainment industry and celebrating your love at every turn, doesn't it?