Kobe Bryant Wore 24 As A Shot Against Michael Jordan: "That Was A Sign To Everybody That He Was A Step Above 23..."
Kobe Bryant stands as the sixth player in NBA history to have two different jersey numbers retired. During his career, he donned 8 and 24, both of which have become iconic in the NBA community.
While most of us already know why Bryant chose to wear the number 8, his reason for switching to 24 before the 2006-07 season is still a mystery to many.
But in a recent chat with his former teammate Paul Pierce on 'KG Certified,' Kevin Garnett gave a very interesting theory on why Bryant chose that number, specifically, which is eerily close to Michael Jordan's 23.
"People don't understand what his No. 24 stands for, people don't understand that was a sign to everybody that he was a step above 23," said KG. "And that was a shot at Mike, like n—, I'm better than you."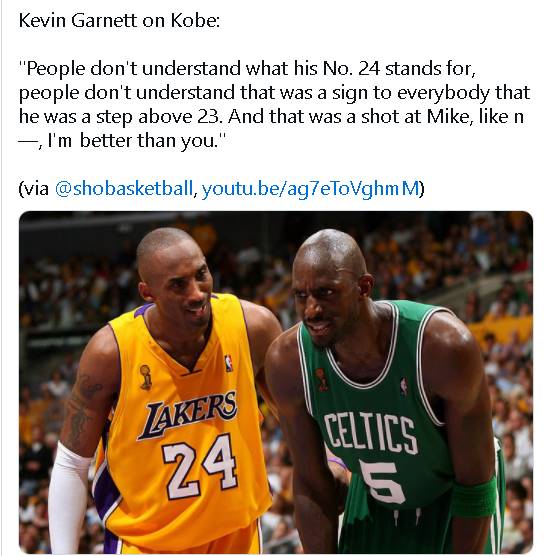 Of course, since we can't go and ask Kobe for the truth anymore, many fans cast doubt on KG's claim. But it's also worth noting that Bryant did something similar for team USA when he chose to wear no. 10, one number above MJ's 9.
While it may seem like a reach for some fans, it's no secret that Kobe was extremely competitive and often looked to prove himself as the best player in the NBA. Early in his career, he was donned as the second coming of MJ himself and refused to completely back down from those comparisons.
Of course, his career never quite lived up to Jordan's -- but as a 5x champion, 18x All-Star, and 15x All-NBA player, it's hard to call Bryant's career anything but an astounding success.
---

Kobe's Explanation For Switching From 8 To 24
Bryant never revealed why he chose to wear 24 over other numbers, but he did tell us why he switched from his original no. 8. According to Kobe, the number change represented a shift in his mindset and career, going from an unproven youngster to an established basketball legend.
"When I first came in at 8, is really trying to 'plant your flag' sort of thing," . "I got to prove that I belong here in this league. I've got to prove that I'm one of the best in this league. Then 24 is a growth from that. Physical attributes aren't there the way they used to be, but the maturity level is greater. Marriage, kids. Start having a broader perspective, being one of the older guys on the team now, as opposed to being the youngest. Things evolve."
Of course, Bryant was arguably even more effective in the second half of his career than in the first half, and it's the adjustments he made to his game that allowed him to flourish for nearly two decades in the NBA.
So whether no. 24 was a shot at Michael Jordan or not, it's pretty incredible that Kobe managed to live up to his own expectations and make himself a worthy comparison to one of the game's All-Time greatest players.