Kobe Bryant Revealed The Secret Tricks Michael Jordan And Dennis Rodman Taught Him: "He Knew How To Get Away With That... He's One Of The Smartest Basketball Players I've Played With Or Against."
The story of Michael Jordan cannot be told without mentioning the many star players and coaches around him that also helped build the Bulls dynasty. Jordan was the centerpiece, this cannot be doubted, but the rest of the people around him were just as important, if not more, to the Bulls becoming the dominant force they did during the 90s. And who would know better about what it takes to become a champion than the players that made up that dynasty?
Kobe Bryant became one of the greatest to ever play the game during his career, and a lot of it started with his desire to be like his idol, Michael Jordan. The relationship between the two legends is well documented. There is no doubting . But MJ wasn't the only player on those Bulls teams that taught Kobe something.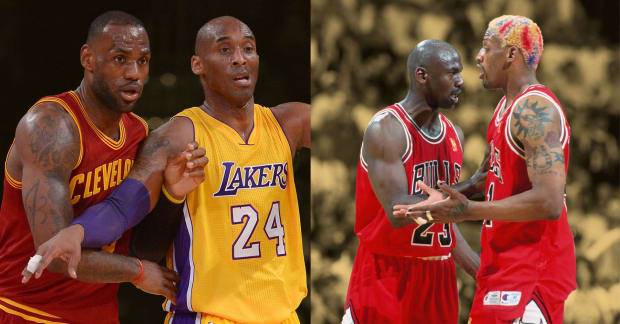 The Bulls' epic defense was arguably spearheaded by Scottie Pippen and Dennis Rodman. Rodman, in particular, became the star he was based purely on hustle, rebounding, and defense. And Bryant, who was himself a 9-time All-Defensive First Team Selection learned from those guys as well. 
---
Kobe Bryant Learned The Tricks Needed To Win A Championship From Dennis Rodman And Michael Jordan
Kobe Bryant faced the Bulls in their prime just a few times, but it was enough for him to understand what he needed to learn to win consistently.  and hit tough shots over Pippen and Jordan too. But he also studied the tricks they had up their sleeve, 
"Look at Dennis. He's holding the crap out of me, but he knew how to get away with that. He had all sorts of little tricks that you couldn't decipher on TV. You couldn't see how he was holding or pushing or grabbing.
"Even if you could see it, TV didn't do it justice. He's one of the smartest basketball players I've ever played against or with. He was, truly, a master of the game within the game.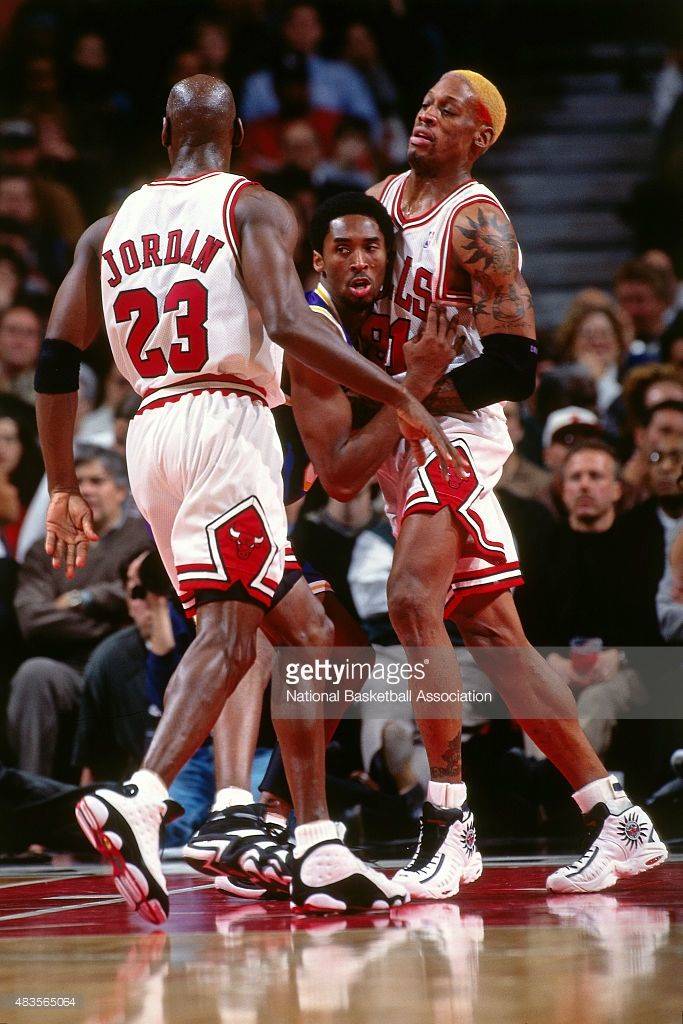 "Michael used to do the same thing. He would shove me into screens and hold my jersey. I learned from those guys, from those Bulls, what it takes to win a championship."
Rodman was the original pest on the court; he wouldn't leave players alone on offense and would dominate bigger players on the boards. Michael fed off of Dennis and Scottie's energy on defense, locking down the opposition's best players quite often. Kobe became much the same and won just 1 less ring, too. It's safe to say that Bryant kept the lessons he learned and used them throughout his career.