Sweet Couple!Miranda Lambert Is 'SO PROUD' Of Her Husband Brendan McLoughlin's Latest Accomplishment!
 gushed over  McLoughlin's latest accomplishment.
On Thursday, May 5, the country superstar and "" singer took to social media to praise  for making it to the top of a mountain after embarking on a 25-mile hike.
" in his happy place! So proud of you and Anthony for making it to the top," Lambert wrote. "25 miles of hiking, Y'all are cray and bad ass."
"Y'all earned a pool day today and some dranks,"  added alongside heart and hand clapping emojis.
Lambert's husband documented he and his friend Anthony's hiking journey throughout the day via his Instagram stories. 
McLoughlin and his friend hiked the  in California, on Wednesday (May 4). The Trail begins in Palm Springs and ascends to San Jacinto Peak.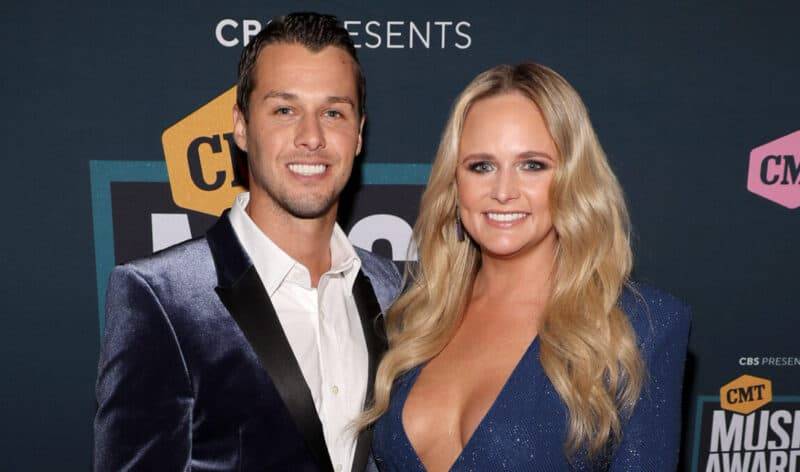 The peak, which has an elevation of 10,834 ft, is the second-highest mountain range in Southern California and it has one of the greatest elevation increases among day-hike routes in the United States.
The former New York Police Officer, donning a backwards hat, gray t-shirt and shorts, shared videos from the 25-mile hike on the trail in the San Jacinto Mountains. He shared that it took 41,000 steps to get to the destination and that he burned over 5,500 calories while doing so.
The visually stunning hike began very early morning and took the two friends all day to complete, however, McLoughlin says the trip was "worth it" for the "awesome views" that they got to see along the way.
"It was a lot, but Cactus Clouds, Palm Springs, it was awesome. One time's enough for me," McLoughlin admitted in the clip while trying to catch his breath. His friend Anthony agreed, that while it was an amazing hike, he thinks it was a one and done experience as well.
McLoughlin and Anthony "finally" ended their long day with an old fashioned cocktail. 
During a recent interview with , Lambert compared her and Brendan's marriage to a "Hallmark Movie" romance. Filmed in her Nashville bar, , the CBS Sunday Morning episode broadcasted on Sunday, May 1. While chatting with host Lee Cowan, Lambert gushed over her and her husband's relationship.
"It's like some kind of Hallmark movie or something," Lambert told Cowan. "Like this redneck from Texas meets this, like, beautiful NYPD officer on the street in New York. But it actually happened that way." 
The pair met in late 2018 and shocked fans in February 2019 with the news that they privately tied the knot weeks prior.
"In honor of Valentine's Day I wanted to share some news. I met the love of my life. And we got hitched!," Lambert wrote at the time. "My heart is full. Thank you, Brendan McLoughlin for loving me for…. me.  #theone," she added.
McLoughlin has become a frequent guest star in Lambert's music videos, including "," "" and more recently "." 
While talking with CBS Sunday Morning, Lambert also shared that she loved having McLoughlin in her "Settling Down" music video.
"It was a beautiful moment to share with my husband, and sometimes artists live in darkness, and use it for their art or whatever … but you know, you don't have to be tortured to be good," Lambert shared with Cowan. "Like, you can write a sad song and not have to live every sad song you ever write, you know. It's an impossible way to live."